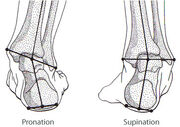 Supination, opposite of pronation, is the position of a body part or the entire body being ventral side up. In the case of the foot, the plantar surface is the ventral surface. 
The body is in a supine position when it is ventral side up. This would be laying down on the back, stomach up.
Supination in the foot is a triplanar position, caused by the motions of inversion, adduction, and plantarflexion. This could lead to a bow-legged stance. [1]
The hand is in a supine position when it is palm up. [2]
References
Edit
Ad blocker interference detected!
Wikia is a free-to-use site that makes money from advertising. We have a modified experience for viewers using ad blockers

Wikia is not accessible if you've made further modifications. Remove the custom ad blocker rule(s) and the page will load as expected.